November was a very busy month for us, so we'd like to apologise for the lateness of this month's development roundup. We've been working hard on putting your feedback from the first iteration of the Fleet Combat and Planetary Colonisation betas into the game, and now have most of the suggestions implemented. The combat and planet betas have now been successfully merged together into a combined client that will become the first iteration of the galaxy beta. Work has now begun on the Galaxy screen and main UI menus, and we're working hard on getting that ready to show to all beta backers as soon as possible.
The big news this month is that we've been working on a new 3D ship designer for Predestination that's been made possible thanks to a grant from the Arts Council of Northern Ireland. We've got some great ideas for expanding the ship designer with extra features, and will launching a Kickstarter campaign exclusively for the 3D ship designer hopefully within the next week. We're very excited to have locked in a basic version of the 3D ship designer as a feature, and will use the Kickstarter to see how far people would like to expand the feature. Check out the sections below for more detailed breakdowns of everything we got up to in November:

The Planetary Colonisation beta was quite well-received, which we're extremely happy with as planetary colonisation is one of Predestination's core features and we see it a significant improvement over previous 4X games. Your feedback on the colonisation gameplay has been invaluable, and we've now implemented the most requested features:
When zoomed in, you can now see all deposits, metal stores and available energy (see screenshot below)
Players can now select a Reserve amount of metal for a planet that won't be spent on the build queue. This can be useful to reserve enough metal for a new colony or expedition, and in the later game could be handy for reserving enough metal to build emergency ships.
Colonies and Expeditions can now be cancelled by right clicking on them and clicking Yes on a confirm dialog. The cost will be refunded into the planet's stores.
Fixed the OutOfVideoMemory exception some people were having and dramatically reduced GPU load for planets. Also added the option of using a low-resolution skybox to save video memory.

The Fleet Combat beta was the first time we'd ever released a version of the Predestination game client into the hands of backers, and there were reassuringly few major bugs. We had a few teething problems with an unusual crash on European versions of Windows and received a lot of feedback on the user interface design and gameplay. Those issues have now been resolved and your feedback has been implemented in a second iteration of the beta. Below are a few highlights of the changes made:
The number of move points you have left is now drawn as a visual indicator. This also shows how many move points your current move will take if you've got the mouse over a valid hex move.
The move point indicator can be clicked to rewind to that move, allowing you to undo mistakes. This feature is disabled if you fire on any ship or are fired on.
The camera can now be rotated with arrow keys.
Shield and armour values are now rounded to the nearest whole number and are 10 times higher than before.
Clicking on an enemy ship now automatically attempts to fire all weapons in order at that enemy if he is in range of any. Weapons can be disabled by clicking a checkbox on the weapon button. Individual weapons can still be fired manually by clicking the appropriate weapon button.
Shields are now drawn as 3D models around ships on the battlefield. The shield your attack will hit on an enemy is highlighted.
A new tutorial option will highlight hexes that the game detects will be "good moves" that put you in range to fire on something.

In our recent one-year catchup interview with sci-fi game site SpaceSector, we revealed that work had begun on a new 3D Ship Designer for Predestination. The ship designer was one of the big unrevealed stretch goals in our original Kickstarter campaign that we didn't reach, and we've been looking for a way to make it happen ever since. We're happy to announce that this feature has now been made possible thanks to a £10,000 grant from the Arts Council of Northern Ireland! Lorraine McDowell, Director of Operations at the Arts Council of Northern Ireland, had this to say about the project:
"At the Arts Council we want to put our support firmly behind local businesses and to help them develop and transform their creative ideas into commercial success. The source of our wealth, job creation and economic competitiveness here in Northern Ireland is shifting to our burgeoning creative sector and we need to make businesses such as Brain and Nerd as well equipped as possible to compete at the forefront of the global market. As such, we were delighted to have the opportunity to support this 3D ship designer project that will help take the already successful Predestination sci-fi game to a whole new level."

Supported by the Creative Industries Innovation Fund
We have a new programmer on board who is currently dedicated to working on the ship designer, and have made significant progress on it already. Starting with a modular block-based design, we first implemented a lego style ship designer in which blocks snap together at pre-defined join points. This approach has been used in games before but we found it to be too restrictive and not very modder-friendly, so we developed a new version that is completely freeform! You can attach ship parts anywhere on the model, as can be seen below with the ship hull covered in turrets at various angles.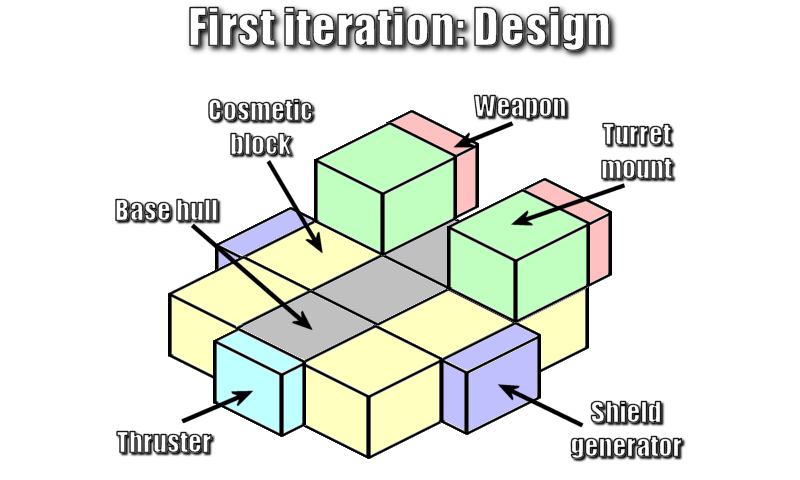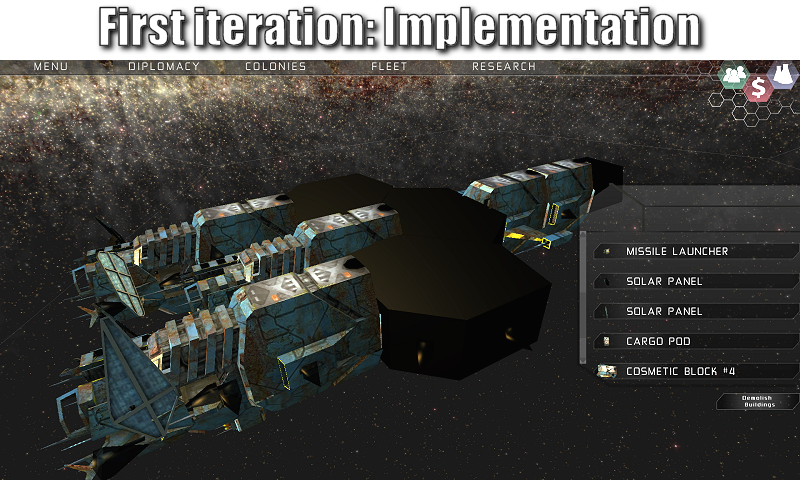 The screenshots above show some of the progress we've made on the 3D ship designer using placeholder models. The £10,000 grant will let us complete the basic 3D ship designer and commission plenty of ship part models, but we want to improve it beyond the original design with new features like racial ship parts and ship refitting (a much-requested feature in 4X games). We will be launching a tiny $3,500 Kickstarter for the ship designer in a few days to lock in those new features and will offer additional features as stretch goals if we reach that target.
This Kickstarter campaign won't be offering all of the same rewards as the previous one. Our usual pre-order, beta and collector's edition tiers are available, but we'll be offering new creative rewards themed on the ship designer itself like opportunity to design one of the default ship designs in the game. We'll make another announcement when the campaign is live (which should be within the week), and hope that you can help us reach our goal by spreading the word on Predestination to your friends and on social networks.
Once again, thank you for supporting Predestination! We'll release another update when the 3D ship designer is on Kickstarter.
— Brendan, Lead Developer