It's been a crazy few months for Predestination, with our second Kickstarter meeting overwhelming success and Predestination finally being greenlit on Steam! We've opened the first two beta stages to our new beta backers, and work is continuing on the upcoming Galaxy beta.
We've made steady progress on the 3D ship designer and implemented several new features already. Cosmetic parts and ship items can now be rotated and scaled after placement using a simple slider and dial system (the UI below is temporary and will be improved on). Parts now have metal and powercore costs and are arranged into sections on the UI. The firing arcs of weapons fitted to the ship are also now displayed on the grid, and rotating the weapon rotates its arc.
This simplifies the selection of weapon arcs considerably, eliminating the awkward Left and Right arcs. Certain weapons will now naturally have wider or thinner firing arcs, and we plan to add weapon mounts or modifications that modify stats like range and firing arc. With over 100 applicants for the 3D modeling position we advertised, we're still in the process of selecting someone to work with; If you haven't heard back about the job yet, stay tuned as we'll be mailing all candidates with a response even if they're unsuccessful.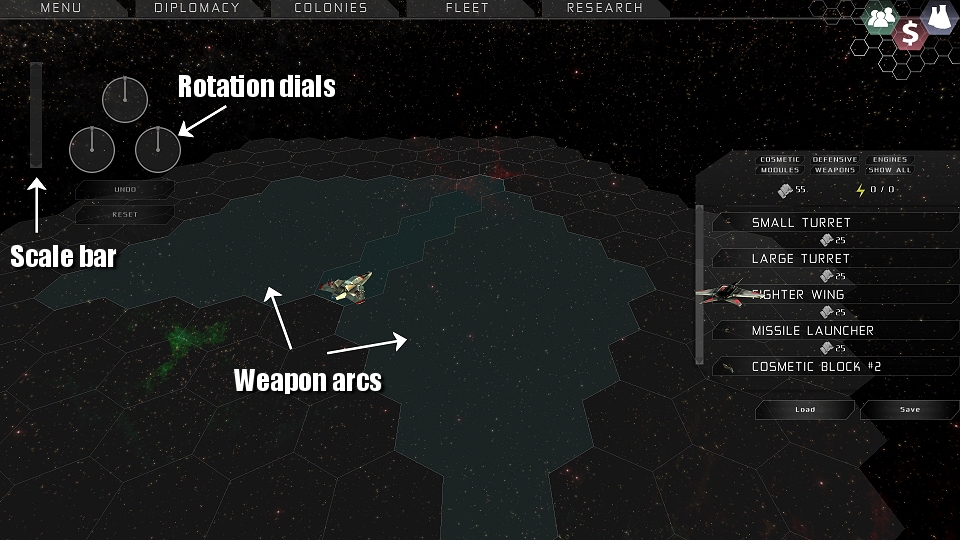 Planets are now generated procedurally using a new system that splotches terrain together into unique continent shapes and then dots it with mountains where appropriate. This upgrade is more than just graphical in nature; it's part of a major gameplay change that lets Aquatic races build colonies underwater and makes terraforming possible.
Habitable planets are now a combination of the four main environments: Terran, Ocean, Desert, and Tundra. Terraforming buildings and weapons can transform small areas of the planet from one environment to another, making them habitable for one species but uninhabitable to others. The upgraded planet graphics and terraforming technologies will be tested in the Galaxy beta. The first iteration of our colony blueprint system designed to reduce planet micromanagement will also be released in the Galaxy beta phase for feedback.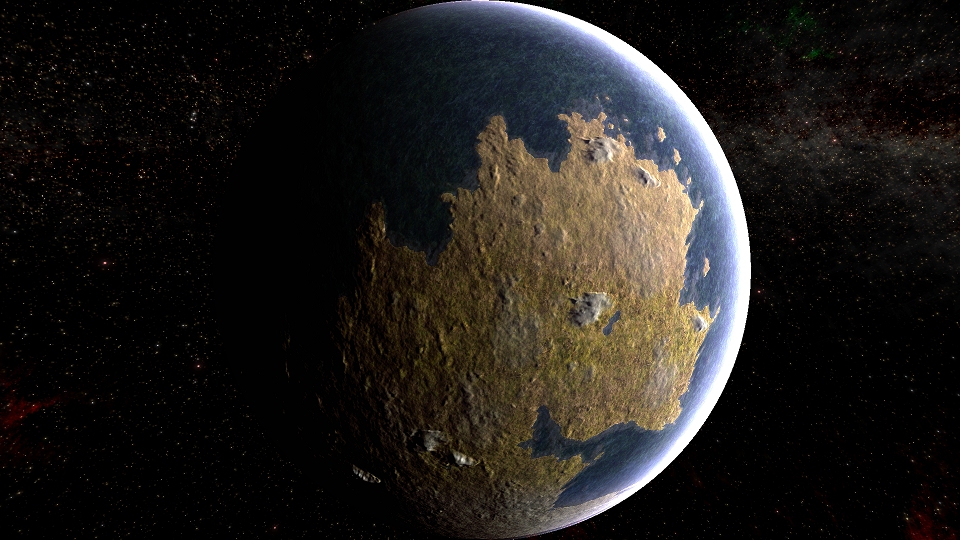 Woohooo! Thanks to your votes, Predestination was one of the latest batch of 50 games to be approved on Steam's Greenlight service. This is really good for us as we'll be able to sell more units, and it also means we can promise to deliver the game, DLC and updates via Steam codes if that's your preferred method of delivery. We'll also be aiming to release on Desura, and by direct download on our own website if you're not a fan of any of those platforms.
Since we've been Greenlit, we might also be able to offer Early Access on Steam in addition to our existing pre-orders. Once the game is feature-complete and we're happy to move it out of the beta phase, we could possibly release an Early Access version to all pre-order backers for a final phase of polish and feedback before full release. We may also be able to use Steam's Workshop site to store game mods, ship designs, alternate user interfaces, and other player-made contributions.
Beta testing progress:
Links to our Planetary Colonisation and Fleet Combat betas have now been delivered via Kickstarter messages to everyone who pledged at the $40 tier or higher. If you're a beta backer, we'd love it if you could test the betas and deliver your feedback on the beta forum. We'll be sending beta links out to Paypal pledgers tomorrow.
The next beta phase may be slightly delayed due to the extra work we now have to do behind the scenes registering Brain and Nerd with Valve, sorting out tax information, and integrating and testing our game with Steam's systems. We'll do our best to get the galaxy beta in your hands as soon as possible!
Cheers,
— Brendan, Lead Developer